1) Load the washing machine
Check that any pockets or other items are completely empty.
In clothing, plush or other items containing padding, check that there are no holes that could cause the padding to come out.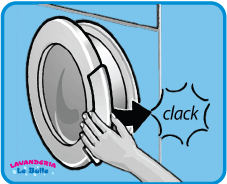 2) Close door
Check that nothing is stuck between the door and the washing machine drum.
3) Insert the coin
It is possible to buy the coin through the coin dispenser inside the laundry.
4) Select the desired washing program
Select the desired washing program from those available by pressing the button with the corresponding icon.
It is possible to choose between the following washing programs: 95 °, 60 °, 40 °, 30 °, Delicates, Delicates 40 °.
NOTE: the 30 °, Delicates and Delicates 40 ° programs perform a reduced spin.
5) Select detergent program
Press the button corresponding to the program chosen in the previous point on the detergent keyboard to enable the addition of detergent, fabric softener and disinfectant during washing.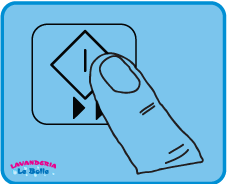 6) Press the start button
To start washing, press the start button (symbol shown).
NOTE: once washing has started, it will no longer be possible to change the washing program.